Antimony
antimony
silver
arsenic
stibnite
Images

Formula: Sb
Native element, metalloid, arsenic group
Forms a series with arsenic
Specific gravity: 6.61 to 6.71
Hardness: 3 to 3½
Streak: Grey
Colour: Tin-white
Antimony has the unusual property that, like water, it expands as it freezes. Four other elements expand when they freeze, namely silicon, bismuth, gallium and germanium (ChC).
Melting point: 630.79oC
Boiling point: 1587oC
Common impurities: As
Environments:
Abundance is 0.2 parts per million by mass, 0.03 parts per million by moles in the Earth's crust, and 950 parts per billion by mass, 10 parts per trillion by moles in the Solar System (ChC)
Antimony is seldom found in the native state, but it does occur in antimony-silver hydrothermal veins with silver, antimony and arsenic minerals (Webmin, Dana, HOM). Associated minerals include silver, stibnite, stibarsen, sphalerite, pyrite, galena and quartz (HOM, Dana, Mindat).

Localities

At Wet Swine Gill, Coombe Height, Caldbeck, Allerdale, Cumbria, England, UK, veins of native antimony in association with coatings of yellow bindheimite have been found (AESS).

At the Driggith mine, Caldbeck Fells, Cumbria, England, UK, minute grains of antimony are associated with inclusions of bournonite in galena (C&S).

Alteration

skinnerite to chalcocite, antimony and sulphur
2Cu3SbS3 → 3Cu2S + 2Sb + 3/2S2
(CM 28.725-738)

Zn-tetrahedrite to chalcocite, antimony, sphalerite and sulphur
Cu10Zn2Sb4S13 → 5Cu2S + 4Sb + 2ZnS + 3S2
(CM 28.725-738)

Zn-tetrahedrite to skinnerite, antimony, sphalerite and sulphur
3Cu10Zn2Sb4S13 → 10Cu3SbS3 + 2Sb + 6ZnS + 3/2S2
(CM 28.725-738)

The diagram below is a Pourbaix diagram for antimony (GSJ). It shows the relationship between antimony Sb and cervantite/clinocervantite Sb2O4.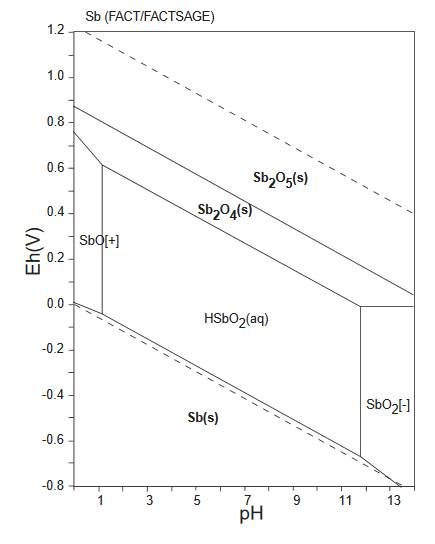 The commonest ore of antimony is stibnite

Antimony-bearing minerals include:

Alloys
sluzhenikinite
stibarsen
stistaite

Sulphides
cetineite
costibite
kermesite
nagyágite
pääkkönenite
paracostibite
stibnite
ullmannite
wakabayashilite
willyamite

Tellurides
borovskite

Antimonides
allargentum
breithauptite
dyscrasite
geversite
naldrettite
nisbite
stibiopalladinite
sudburyite

Sulphosalts
berthierite
boscardinite
bournonite
chabournéite
dadsonite
famatinite
franckeite
freibergite
heteromorphite
hrabákite
luboržákite
madocite
nuffieldite
polybasite
skinnerite
sorbyite
sterryite
stibiogoldfieldite
tetrahedrite
thunderbayite
tučekite

Oxides
biehlite
cervantite
clinocervantite
garpenbergite
hydrokenopyrochlore
rinmanite
rosiaite
senarmontite
valentinite

Hydroxides
mopungite

Halides
kelyanite
nadorite
onoratoite

Antimonates
bindheimite
byströmite
brizziite
ordoñezite
stibiconite
tripuhyite

Antimonites
schafarzikite

Back to Minerals